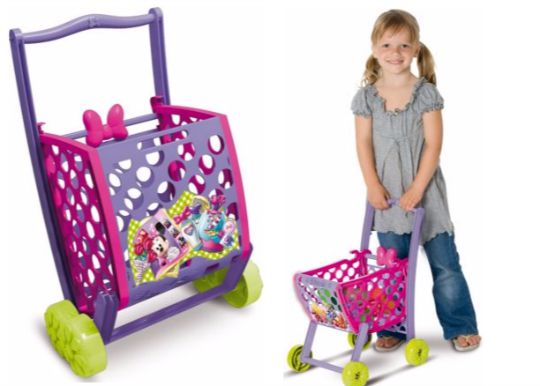 We are fully aware that a fair few of you have started (some are finished) their Christmas shopping. We have been looking out for some great toy bargains. Here's a deal for those of you that have a Minnie Mouse daft little one, or someone who like to play shops. Argos have reduced the Minnie Mouse Shopping Trolley from £14.99 to just £6.99. It's an Online Exclusive which means it's for home delivery only, but worry not, you won't be stung with a £3.95 charge as it's FREE.
The Minnie Mouse Shopping Trolley can be used in two different way: A pull along shopper or a classic push along shopping trolley. It's coloured bright pink and purple with a bow featured on the back of it. There's a Minnie Mouse design on the front.
There's nothing to say it comes with plastic pretend food, but it is pictured on the Argos site, so look at it as a bonus if you do get some. Your little one will fill it with their own junk toys anyway.
This Minnie Mouse Shopping Trolley is aimed at children aged three years old or above.