Inflatable Globe £3.98 @ Amazon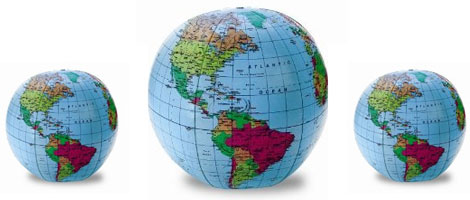 I'm a total sucker for anything like this inflatable globe!
Atlases too!  If there's a special offer on various Atlases, I find it almost impossible to resist.  You don't even want to KNOW how many Concise, Complete and Comprehensive versions I have *sigh*
But they're educational you see and that's why I can't help myself.
I was brought up in the world of reference libraries and no internet, if you wanted to find stuff out you couldn't just log on and laugh at the inaccuracies of Wikipedia, you had to physically turn the pages of a book or spin a Globe.
Thing is, globes can take up a fair bit of space and that's at a premium then this inflatable globe is definitely the way to go - you can blow it up when you need it and deflate it when you don't.
Or you can just have it hanging around to play with and surreptitiously get sneak some learning in whilst you play a great game of catch, or whatever, with your child.
This inflatable globe also comes with a kit to repair punctures and one to hang it up with.
It should be £8.00 but is now a bargaintastic £3.98 instead (if Amazon leave its price alone for more than half an hour!) and there's no delivery to pay either with the supersaver delivery option.
Thanks to debadwolff over at HUKD!