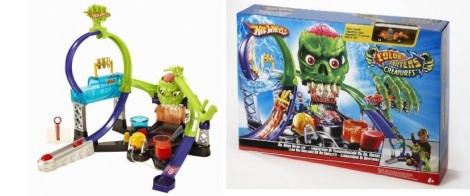 I spent many hours setting up my step son's Hot Wheels tracks. There's something so cool about watching these cars whizz around and crash through obstacles. Even cooler is finding a set at a reduced price. This Hot Wheels Colour Shifters Dr. Bones Colour Lab has been reduced by Tesco from £33.97 to £16.98. Delivery is free if you can collect instore - do check first if the store near you offers this facility. The cheapest I could find this set elsewhere was just under £25.
As far as I can work out, this set works on changing the colours of the cars. This is what it says on the website anyway. Players can take control of the coolest color changes in a fantastically creepy lab setting. Perform your own crazy experiments by taking your Colour Shifters cars through this mad scientist's laboratory. But don't worry if Dr. Bones traps your Hot Wheels cars. Rescue them using the giant skeleton hand – one swift blow and his skull will explode. Includes 3 activation modes for dynamic colour changes.
The comments from reviewers at Amazon, where it is priced £24.99 plus delivery (it doesn't qualify for Amazon Prime) are mixed. This comment is fairly typical. "The kids do love playing with it, only drawbacks seem to be that as you don't use a lot of warm water it cools down very quickly and the colours stop changing, it can get a bit messy so I wouldn't use it on a carpet, the mechanism in the head can stick meaning cars can get stuck but that's a small problem."
Suitable for children aged 4 years and upwards.
Thanks to Dippidh at HUKD!