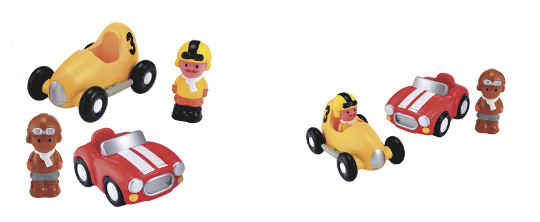 Mothercare have a pretty big sale on at the moment, with loads of items massively reduced, and various Mothercare promo codes still in play too, depending on how much you're spending. The HappyLand Retro Racers, for example, are reduced to £2.50 from the RRP of £10 and Boots where they're still £10 too. If you're adding to your order and use the 20% off code too, your Racers will cost you just £2.00. If you're thinking of bulk buying - say 10, for a racing or car themed birthday party, it can make a real difference: I put ten in my basket and had £5 off, making them cost £20.
Everyone knows HappyLand, I'm sure, and the list of those little plastic collectible people is pretty long. I'm sure they'll soon be adding a royal baby to it too - they did the wedding, after all.
Suitable from 18 months, these little racers sit inside the cars so little people can race them against each other, stage exciting chase scenes and chase after them and so on.
HappyLand is great for imaginative play, your little one will have lots of fun giving the HappyLand characters their own voices and personalities while making them run around. 
It's a great price for a durable product.
Thanks to josiecookx at HUKD