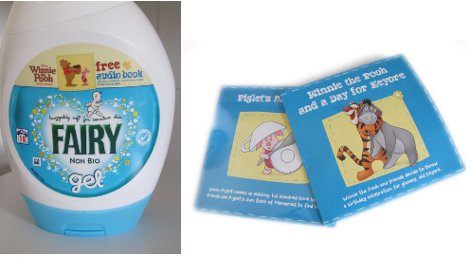 Fairy Non Bio Gel is currently £3 at Sainsbury's as compared to £4.69.
So, remember a couple of weeks ago I told you about the Winnie the Pooh Audio books you could get with the purchase of Fairy Non Bio products? You just have to send your receipt in with your address and name to the folks at Fairy Non Bio, and they'll send you one of three lovely audio books?
Well, now Fairy Non Bio is discounted too so you can get your 18 washes and your free Winnie the Pooh story for £3 – not bad, I think.
Mr. the Pooh has become the first 'character crush' in our house and my daughter walks around everywhere pointing out "Pooh" – which I'm always very eager to encourage with, "Yes, it's WINNIE THE POOH", just in case anyone thinks my child's particularly fond of oversharing.
We've even gained a few sets of Duplo thanks to the bear – (mercifully, Argos has hadWinnie the Pooh Duplo on sale too, if you're interested.)
Anyway, include this purchase in your normal groceries and you won't pay delivery (£3.95) on orders over £100 (on specific days, oddly.) But I've seen the offer in a couple of shops this week and there's always click and collect for free.