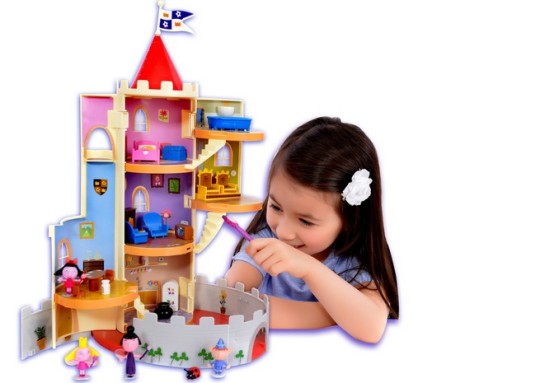 Golden Bear Toys have a sale on the LARGE Ben and Holly's Little Castle Magical Playset at the moment. It's currently £29.99, although it doesn't say what it's reduced from and there's no charge for delivery either. Having a look around, the same one is on sale at Amazon for £64, £99 or over £100! So they're definitely very much reduced, and perfect for those who've been looking for it.
From the award winning programme Ben and Holly's Little Kingdom, the Little Castle Magical Playset opens to reveal six rooms with accessories.
You can use Holly's wand to cast 5 magic spells, the castle and accessories have many play features from opening the fridge door to filling the royal bath with soapy bubbles.
The set includes the castle and a courtyard, Holly's wand, and articulated figures of Nanny Plum, Ben Elf and magic flying fairies Princess Holly and Fleur.
Apparently you can also use the wand to pick up each fairy to make them magically fly! That sounds awesome to me!
Thanks to laurahoward at HUKD