1000 Piece Mega Bloks Micro Blocks Tub Half Price @ Argos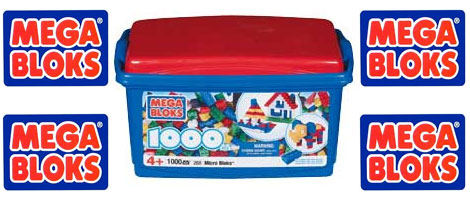 It's a Mega Bloks half price hatrick for me today - Argos are also selling this 1000-piece Mega Bloks Micro Bloks tub for half price too; £14.99 instead of £29.99.
If your little one has outgrown their chunky mega bloks now and is up for something a little more challenging, then this tub of 1000 Mega Bloks Micro Bloks pieces will do just that.
Just like Lego used to be, apparently, this vast number of brightly coloured building blocks can be turned into just about anything and everything their imagination sets its heart on.
With 1000 pieces there's enough here for everyone to build at the same time without scrabbling around for the right sized pieces you need to finish off your Mega Bloks Micro Blocks creation.
I'm trying my best not to imagine the horror of 1000 pieces of Mega Bloks Micro Blocks strewn all over the floor, but at least the tub they come in is deep, strong and sturdy and has a secure snap-on lid.
You can have your 1000-piece Mega Bloks Micro Blocks tub delivered for £5.95 or collect for free if your local Argos has it in stock.
Happy building!