Crocs From £1.79 AT MIDDAY @ Sports Direct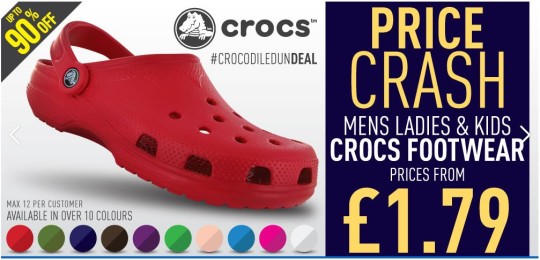 From mid day today, Sports Direct have a crash sale on Crocs with prices from £1.79. If you check the site now, you'll see prices start at £7. That's because the sale isn't on yet.
You'll still need to factor in delivery at 3.99, making one pair cost you £5.78, but hopefully it's still useful if you are buying more than one pair.
I know a lot of people hate Crocs and wouldn't wear them if they were the last shoes in the world. They are a godsend for the kids though - no fussing with Velcro or laces, no threading, nothing... just slip them on and off you go. They are perfect for colder weather, no questions. And brilliant for the beach too!
They have men's, women's and kids Crocs , and there are the standard ones with holes and closed-shoe, clog styles and Croc flip flops too -  I have a lovely pair of Crocs boots that saw me comfortably through the winter, so hopefully the flip flops will be good too!
If you have little ones in need of summer shoes, it's worth a look - they are great summer shoes.
Thanks to nasirh17 at HUKD