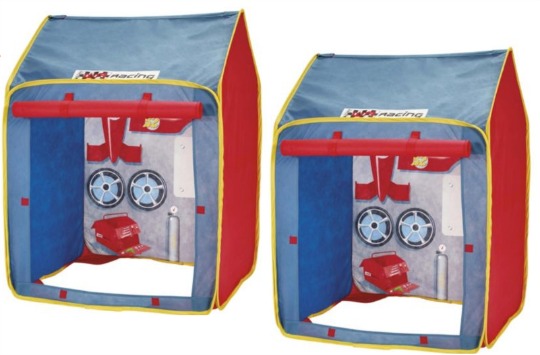 When my two eldest sons were small, they loved nothing more than to play in their little tent. Whether it was in the house or in the garden, I struggled to get them out of it. Tesco Direct are selling the Tesco Garage Playhouse Tent for just £10. It normally sells for £20 but Tesco Direct have took £10 off of the price.
Priced at just £10 and with a 4.9 star rating, I can see this Tesco Garage Playhouse Tent selling out quickly. Toys like this are good as they are so easy to store. If you have a small home then this can fold down and slide under a bed.
The kids can pretend to be mechanics in this cool garage themed playhouse tent. With a big red door that rolls up, this would be a great place for the kids to sit and eat a picnic in as the sun beats down.
You can Click and Collect the Tesco Garage Playhouse Tent for FREE from a Tesco store near you or pay £3 to have it delivered to your home.