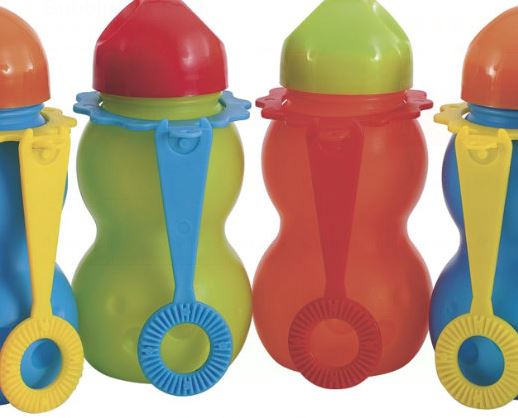 ELC's Bubble Mix Pack of six is half price at ELC at the moment, reducing the normally £3 bubbles to £1.50. Standard delivery costs £2.95 or is FREE on all orders over £50, and the offer should be available in store too.
My daughter's fourth birthday party is coming up, and bubbles are a definite for our goody bags, and just for around the room, since they are a quick and perfect way to entertain kids and bring the focus back to whatever you want them to do. In fact, as we start heading towards more time indoors again, bubbles are essential for us because as soon as my girls start climbing the walls, we can run outside, blow some bubbles, work up a sweat with glowing cheeks from the cold, before heading indoors for some hot chocolate. Hhmmm.. maybe autumn and winter aren't that bad.
I haven't tried the ELC bubbles, but some of our HUKDers have, and at least one rates them pretty good bubbles. On the ELC site a couple of reviewers weren't so enamoured, but others said they were pretty good with "30+ bubbles with one blow and so are far more reliable than cheaper bubble bottles". Apparently that gets less as you get towards the bottom of the bottle though.
Thanks to kb87 at HUKD