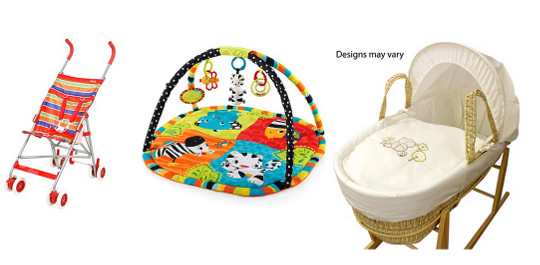 ASDA has a super sale on today with simply amazing prices on a range of baby stuff, but if you stop to think about it too long, it will be gone. So act quickly!
The Kinder Tiny Moses Basket is £16. With a  water resistant and breathable mattress that allows easy air movement and heat dissipation around your baby's body keeping them cosy all night long. The mattress is also washable, which is a bonus while you try to figure out which nappies do or don't leak on your baby!
The Bright Starts Play Gym is down to £10 and offers active discovery, tummy time and active play, on a soft character playmat. It also comes with 4 additional toys: Adorable tiger chime, Baby safe mirror, Easy to grasp ring rattle, Teethable dragonfly link. This too is machine washable.
Red Kite Push Me Lite Buggy is great if you're going of on holiday soon and need just a 'something' that you're not precious over! It's just £10.80,  suitable from 6 months up to a weight of 15kg. There's a 5 point safety harness and lockable swivel wheels really make this buggy safe and easy to use.
Hope you can catch some of these hot hot hot prices!