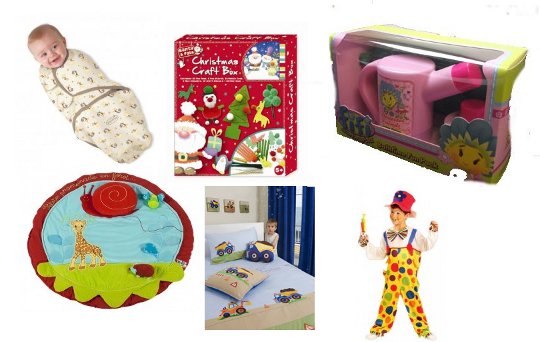 I don't even know where to start on this offer. I think I could spend every penny I own in this online shop on fantastic range of kids and baby items. 
Get something of everything at Designer Kids And Baby
Discount: 10%
Valid On: Everything, including sale items
Discount Code: Pennies10
Expires: 31 January 2012
I love Exclusive offers that apply to sale items too – it feels like an added bonus, and who doesn't like that?  A great example is this bold and bright Sophie The Giraffe Super Comfort Activity Quilt Toy which was £79.99 but has been reduced to £39.99 and with the offer is now just £35.99.
Another item that caught my eye was the Christmas Craft Box, normally £4.50, it's now £4.05, which seems like a great price for an afternoon's activity.
For larger items, there's bedding and décor for themed bedrooms, including animal themes and flower themes, wall art andswaddling blankets and bedding.
If you're shopping for a gift, you can evenshop by characterwith everything from Winnie the Pooh to Ben 10 and back again as well as a great range of footwear for kids!
And to top off the greatness – shipping in the UK is free of charge.