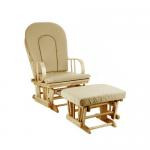 If there's one luxury item I'd recommend to a mum-to-be, it has to be a nursing chair.
When I was pregnant with my first baby I dismissed these chairs as an unnecessary extravagance. Swapping my salary for maternity pay meant I didn't want to waste a penny on items that weren't completely essential - and I didn't think I needed a special chair just to sit in while I fed the baby.
Then... I popped into a plush department store to feed my son in the mother and baby room and that was it. I was an instant convert. If I ever have another baby the one thing I wouldn't want to be without is one of these chairs.
However you choose to feed your baby you spend a shocking amount of time doing it, at all hours of the day and night. So there's something lovely about having a special place for it. Somehow treating yourself to a super-comfy indulgent chair makes those night feeds in the dead of winter just that little bit more bearable. And there's nothing quite as relaxing as soothing a well-fed, sleepy baby back to sleep as you glide back and forth in a padded rocking chair.
It usually retails at £199.99 but Pramworld are offering a lovely 40% off, making it a pretty reasonable £119.99.
This particular chair is made from natural hardwood with padded cushioning. Traditional in design, it's the sort of thing that doesn't look out of place in your living room but it'll work in baby's room just as well. It comes with a padded foot rest, and honestly I defy anyone to sit in this squishy bit of heaven without dozing off to the land of Nod. It's such a treat that I bet it'll remain your favourite chair long after the babe has flown the nest!