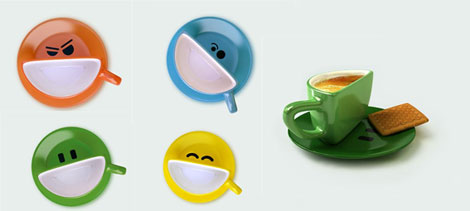 I like quirky things that are a bit different - they make life fun, and why on earth would you want to go through it being miserable?
I stumbled across these bonkers cups this morning and now, even if you're a half-empty glass person, you can be a full half a cup person *grin*
As soon as these come back in stock I'm going to order some - all three of my kids love dunking things in hot drinks and generally the hot drink is only there to be dunked INTO.
The thing is, once the dunking things of choice are finished, the hot chocolate (or whatever) is surplus to requirements! So half a cup of whatever is going to be perfect.
Now I'm not bothered that this is a ceramic half cup and plate, the Teenagers are more than capable of coping with breakables now, and my youngest (four and a bit) has been using ceramic mugs and glass glasses for at least the last couple of years - I'm of the school of thought that if he's taught to be careful he will  be, and he is.
Thinking outside the box a little - you could use some of these for daft grown-up parties:  Pringles on the side and homemade dip in the cup, fruit and biscuits on the side and yoghurt (or whatever) in the cup.
I've fallen in love with these - maybe they'll put a smile on your face too...unless you're a 'glass is totally empty' person, in which case not even these are going to help you!