The alien costumes from every little boy's favourite cartoon series, Ben 10, aren't usually what I'd call affordable but right now you can pick them up for a fairly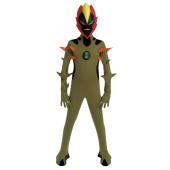 decent price at Play.com.
Usually £16.99, this Swampfire costume is now just £10.49 with free delivery, saving you £6.50. That's more than enough for a giant vanilla latte and a cinnamon bun, and maybe even a trashy magazine, too. And once your little darling is all togged up in his Swampfire suit, you might even find yourself with 5 whole minutes to yourself to enjoy all that.
Swampfire is apparenly a plant-like alien with a flaming head (!) and his powers include super-human strength, regeneration powers, the ability to control plants and shoot flames from his hands! Apparently the powers don't come with the suit but it guarantees you'll look the part.
Like most parents I generally try to limit the amount of aggressive skulduggery that my kids watch but my boys assure me that the aliens in Ben 10 are goodies and that they only beat up the baddies, so, um, that's alright then.
As I've said, these costumes don't come cheap but this is about the best price I've seen.
This is a one piece suit with mask, and it's suitable for kids aged 5-7.