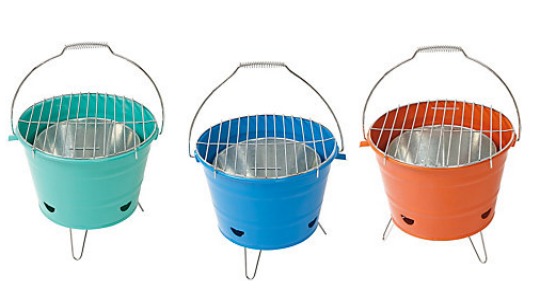 You might not believe me when I say this but Barbecue Season is upon us. As soon as that sun is out hit your local butcher or the supermarket for those burgers and sausages. I am a massive fan of the portable barbecue, it served me well when cooking for just me and the kids, plus you can take it anywhere with you. Think of your local Country Park or for a day at the beach. Homebase have reduced their colourful Portable Bucket BBQs to just £9.99 from £14.99.
The Portable Bucket BBQ is made from steel, which is obviously painted. It'll cook for up to two adults or like I said one adults and two children. It has a handle so that it is easy to carry from the car to the beach or anywhere else you fancy. Maybe you would like to take it camping. Check out Heidi's Camping Recipes, by the way, MMMMM!
It has air vents and requires charcoal. Homebase are offering 15% off charcoal when you buy a Portable Bucket BBQ.
Apparently, you can cook up to four burgers at a time, but that depends on the size of the burgers really. The grill is made from chrome plated steel and the BBQ comes with a one year guarantee from Homebase.
You can Collect from Store for FREE or pay £3.95 for home delivery.