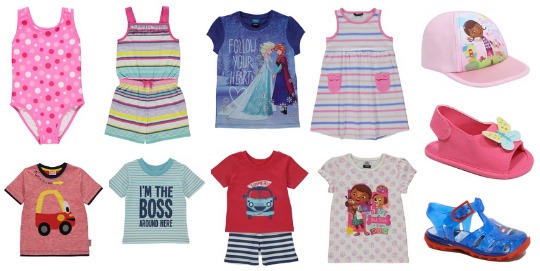 Nada told us about the £1 children's T-Shirts that she found at Asda this morning, and it turns out that they are part of the next Asda George Sale! The sale hasn't started officially yet but the reductions have already been made to many items prior to moving all of them across to the Sale section of the website.
BUT if you have shopped with them before you may have received an email invite to look at the Sale Preview, and all of you can access it on the link below! That saves you having to rummage around rooting out the new reductions.
There are 1212 items in the Sale this time, and that includes Men's, Women's, Babies and Children's clothing, accessories and shoes, as well as Home, Toy and Baby items. If you just want to look at one type of thing you can use the filters on the left hand of the page, otherwise you will be there all week!
Prices start from 50p for accessories and £1 for clothing, and there are tons of bargains. The Sale stock sells out massively quickly so you might want to get your order in as soon as possible.
You can click and collect for free or home delivery is from £2.95.
If you want an idea of the sort of savings you are getting, all of the items in the picture above are £2 or less!