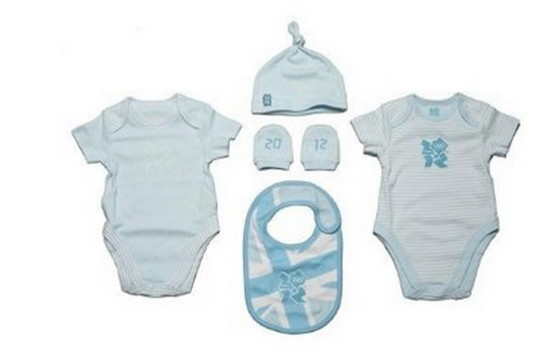 How much you're 'into' the whole London 2012 Olympics will pretty much determine your excitement for this product. You can find a pack of 5 pale blue baby clothes with London 2012 Olympics logos for your or someone else's 6 – 9 month old at Amazon for £12.20 instsed of £22.
This five-piece sleepsuit set in a gift box consists of a plain vest, striped vest, a hat, a bib and a pair of mittens. The vest has an "envelope neck" for easy stretching over baby limbs and a snap fastening underneath the vest. The bib also has a snap fastening. The mittens have "20" on one hand and "12" on the other and both the bib and one of the babygrows have official logos, in not-so-official colours.
All the items in this set are 100% cotton and can be washed in a normal 30 degree wash.
This order is inclusive of free delivery.