Kids Waterproof Jackets 73% off: Now £8 @ Regatta Outlet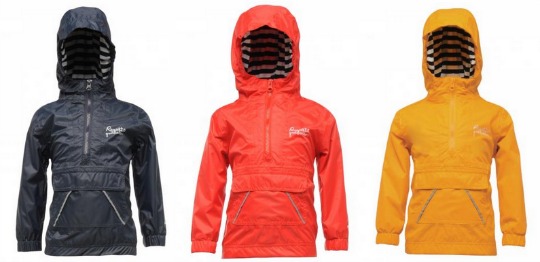 These children's waterproof jackets have a massive 73% off their original price of £30, and they are now just £8 each! For a proper performance waterproof that is a great price.
There are three different colours to choose from, Navy, Pepper and Gold, and the sizes in stock  vary between 12 months and 5 years according to colour. The sizes are listed in months, even for the larger sizes, for example it says 48 to 60 months rather than 4 to 5 years.
They are made from waterproof and breathable Hydrafort fabric, have taped seams, a mesh lining, and a drawstring foldaway hood. For £8 these are amazing.
The regatta outlet has huge reductions on many clothing and accessory items for all the family, but these were the ones that caught my eye as I'm always having to repalce the kids waterproofs. They get a lot of use where we live, and I don't know what happens in the playground at break time, but the coats keep coming home ripped and dirty. Boys, eh?
Delivery will add another £3.95, or you can use Collect+.