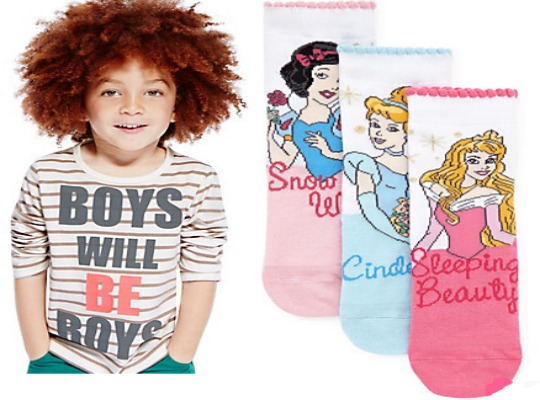 Marks and Spencer (M&S) is another favourite of mine when it comes to children's clothing. The quality is great and the prices are reasonable on most items but a tad pricey on others. That's why it's good to grab some bargains when they have a children's clothing sale on. Items start from just £2.50, and there's plenty of variety for boys and girls.
If the kids got heaps of outfits from relatives at Christmas but no socks then you are in luck as M&S have lots of nice pairs in their sale for cheap. The Disney Princess* ones are only £2.50 for three pairs and they are very cute indeed.
The Cotton Rich "Boys Will Be Boys" Tee* is now only £3 to £4 and is a must for those little menaces in your life. For the little Princess, this Pure Cotton Bird Applique Striped T-Shirt* is a great buy at just £5-6.
The Pure Cotton and Cotton Rich items for M&S tend to wash well and I for one am a fan. My middle child Ben, can react to cheap materials so I grab him either for his sensitive skin.
Save on the £3.50 delivery charge and collect your items for FREE with the Click and Collect service. If you must have your order delivered then bear in mind that Next Day delivery is only 49p more at £3.99.