Girls' Clothing £2.99 Specials @ H&M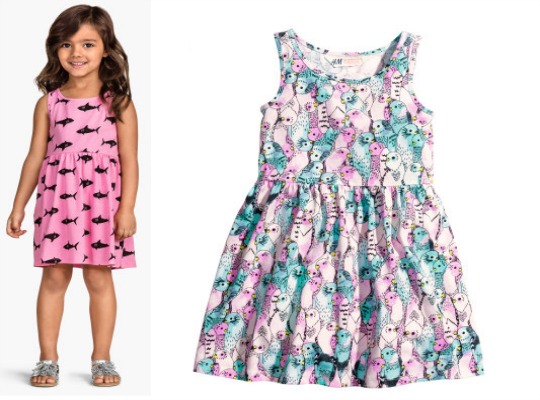 H&M has done it once again, with the bargains. Just now they have three Girls' Clothing items on special at just £2.99. They aren't mittens from last season or thick coats, it's clothes that your little girl can wear now until the summer is over. People rave about Primark and Asda George, yeah they are great too, but for me H&M are just en pointe. My kids actually want to wear the clothes from there which is always helpful.
The Jersey Dresses are my favourite out of the three £2.99 specials. It comes in a choice of ten different designs. I like the bow patterned one but my ultimate favourite and the one I wish they did for adults is the Budgie print. It's just so bright and very quirky.
The Cotton Shorts come in a choice of seven different patterns. They are great for taking on holiday with you and for letting the kids roll around outside in.
One of the most versatile item of clothing is Leggings. These 3/4 length ones at £2.99 come in seven different colours and can be worn with a vest or a t-shirt, or how about under a dress?
H&M only accept online orders of £6 and above and postage costs £3.90.