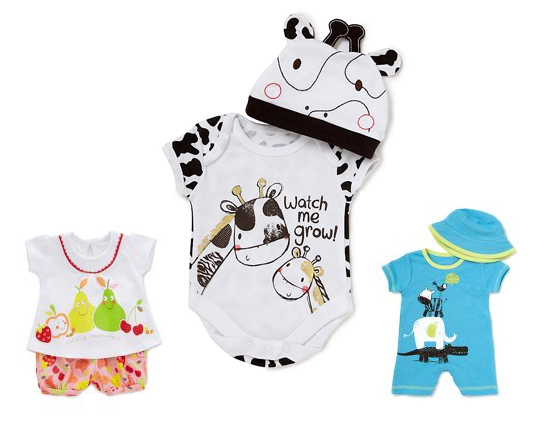 My mum's a big fan of anything Asda - I'm more of a Tesco girl myself, but when it comes to baby clothes I don't care who they're made by as long as they're CUTE!!  And, OH MY GOODNESS, there are some seriously lovely little clothes included in the George baby clothes sale.
I don't miss the little baby days one bit, I'm not a natural Earth Mother at all, but I do miss musing over all the lovely baby clothes - teenage and grown-up clothes, £120 prom dresses (daughter) and expensive suits for travelling too and from barracks in (eldest son) aren't anywhere near as much 'fun'.
There are 125 different outfits and items for you to choose from, with various amount of discount, and whilst I miss tiny clothes I don't envy you having to choose just a few bits and pieces because almost ALL of everything is lovely - I don't even know which items to highlight for you!
There are knitted hoody jumpers and cardigans, summer dresses, smart little shorts outfits for boys and girls and romper suits.  There are plain things, understated things and things with cow prints and bright patterns that will require sunglasses to look at.
Go and have a look at the George baby clothes sale, there's absolutely going to be something there you'll fall in love with and just HAVE to have!
Thanks to bestec2 at HUKD