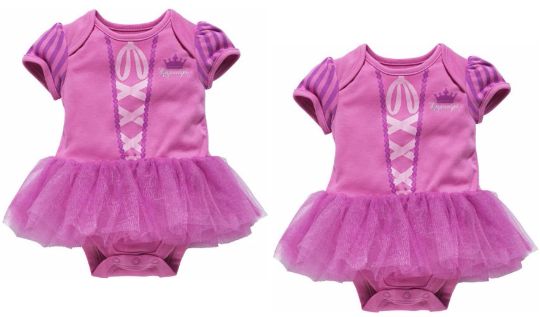 This is so adorable! Sometimes, I really wish I had a daughter. I love little fancy outfits like this Disney Princess Rapunzel Baby Tutu Bodysuit from Argos. Not only is it super pretty but it's reduced to just £2.99. It was originally £7.99 which is reasonable in it's own right. I can see these getting snapped up at this price though. One of these would be a great new baby present and it won't break the bank.
The Disney Princess Rapunzel Baby Tutu Bodysuit comes in two sizes: 3-6 months and 6-9 months. If your little one is still very young, then think about Christmas time. This would be awesome with a pair or leggings/tights and a cardigan over the top.
The bodysuit is made from 100% cotton and the tutu is 100% polyester. This Tutu Bodysuit is machine washable at 40°C so you will be able to get those sicky stains out no bother. The front looks like a lace up bodice as if it was a ballgown.
You can Reserve and Collect the Disney Princess Rapunzel Baby Tutu Bodysuit for FREE or pay £3.95 to have it delivered to your front door.