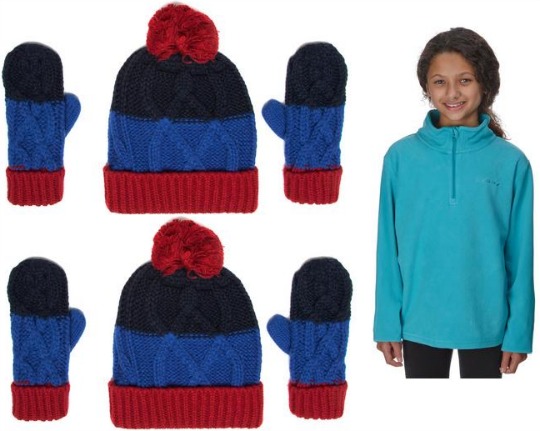 Blacks specialise in outdoor clothing, and I tend to get jackets and shoes there from time to time. I like my boys' clothes to be as durable as possible, trust me, with my monsters they need to be. If I am entirely honest, I only really shop their when they have a sale on. Today, is that day...Clothing and shoes are included in the Blacks sale and items start from only £3.
If you are thinking you want a sturdy alternative to regular trainers for your little nipper then you can easily grab a pair of substantial walking shoes/boots for under a fifteen quid. In fact check out the Peter Storm Newquay Adventure Shoe* for just £12, reduced from £15.
This Peter Storm Red Fleece* has £3 off making it only £5. These are what my eldest two wear instead of jumpers. They HATE wearing jumpers but will happily wear one of these, instead.
Keep the kids cosy with sets for a fiver like this Peter Storm Hat and Glove Set*. I have a feeling we are in for a bitterly cold January since we have had it so mild, so far.
Save on the £3.99 postage charge and collect your order for FREE from ANY Bank, JD Sports, Millets, Scotts Menswear or Blacks store.
Thanks to billysilly @ HUKD