(EXPIRED) Babywear Sale Plus £5 Off When You Spend £25 @ F&F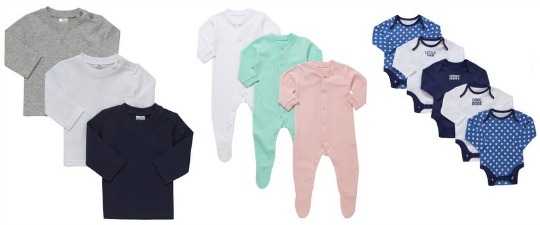 I already wrote about the new sale at F&F clothing this morning, but it seems that they were still in the process of changing over the offers. One of the new ones that started today is a cracker if you combine it with the sale. There's £5 off when you spend £25 on Babywear, and that includes sale items, so you can get an awful lot for your money!
There's no code to enter to get the £5 off. You just add £25 or more of baby clothes to your basket and when you have logged in and progress to the checkout the £5 discount will be removed from your total to pay.
Click here for all F&F Babywear*
Click here for the Baby Sale @ F&F*
You don't have to just stick to sale items for this promotion, and you should be able to use it on any clothing or accessories for babies and toddlers up to two years.
In the Baby Sale there are clothing items from as little as £1, and there are packs of 5 bodysuits from just £3.50 as well as loads of other great value items. You can get a whopping amount of clothes for baby with this offer!
F&F clothing orders an be home delivered from £3.95, or you can click and collect for free from Tesco stores.