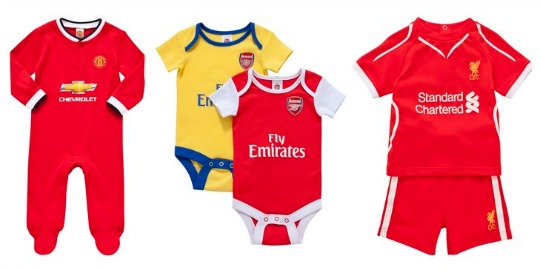 I'll fess up straight away and say I can't stand football (sorry!), and luckily for me neither does my hubby, but just about every other member of our family is a massive fan so I know how expensive kit can be.
Tesco have just launched a new range called 'Little Fans' which are baby football and rugby clothing including kits, sleepsuits, twin packs of bodysuits and bibs. The price is pretty great at £12 each, with the bib sets coming in at £8, and using the e-coupon BABY2015  you can get £3 off!
The teams available are (in no particular order!) Arsenal, Liverpool, Manchester United, Welsh Rugby Union, FC Barcelona, and England Rugby Union. These are Baby clothes, so they only go up to 24 months.
Remember you can also get £3 off when you spend £10 on Baby Clothing with the codes BABY2015 or BABYTHREE. Some have even found that both have worked together! You can find those and other Tesco e-Coupons in our voucher section.