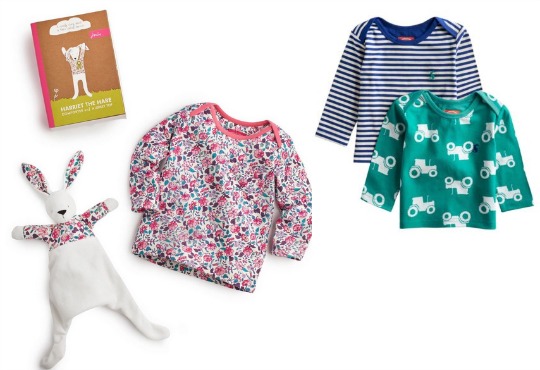 You guys seem to go daft when we find a good Joules deal, and that's exactly what we have done today. If you didn't already know, Joules have an outlet store on eBay. The selection can vary vastly, but they sell past seasons, ex sale and discontinued for much less than you would pay in a Joules store. They offer FREE delivery on these items too, which just makes the deal sweeter. Seriously, if you like Joules, get on over for a look.
I am going to start with my pick of the Joules eBay Store. The Joules Babyharetale Baby Girls Comforter and T-Shirt Gift Set* is just £9.95 delivered. With this lovely baby set you get a soft rabbit comforter, a matching jersey top and a Harriet the Hare's Book.
There are some really cheap items to like this Joules Cotton Baby Hat in Jolly Mineral Green* for just £2.95 delivered. I bought these Joules Two Pack of Boys' Patterned Tops* the last time we told you about them. Outstanding value at just £7.95 delivered. The Girls version*are slightly dearer at £9.95 but still represent good value.