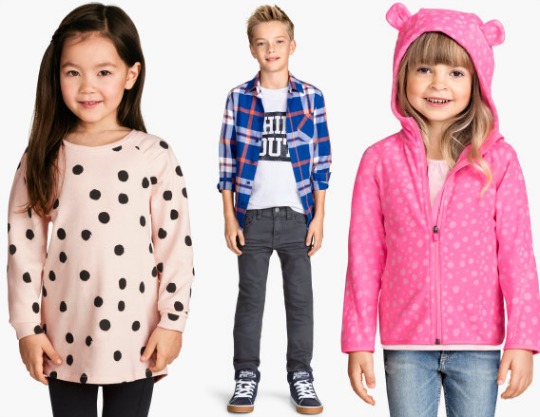 Children's clothing is always cheap at H&M and that's why I am a fan. When you start reducing new lines, I go nuts for them. Today is that day.... H&M have reduced selected lines of children's clothing and I am all over it. You can really get heaps for your money, for instance that pink jumper with black polkadots*is now only £3.99. That's a cracking deal!
There are some gorgeous items for little fashion conscious girls: Sweatshirt with a print* was £5.99 now £3.99, Patterned Parka* was £19.99 now £11.99, Frilled Blouse* was £9.99 now £5.99 and my favourite out of the lot is this Hooded Fleece Jacket* reduced from £9.99 to just £4.99.
There are plenty of boys items too that will please even the fussiest: Long Sleeved T-Shirt* was £5.99 now £4.79, Twill Skinny Fit Trousers* was £14.99 now £10.49, Chambray Shirt*was £7.99 now £5.59, and this uber cool Hooded Sweater* was £14.99 now £10.49.
H&M really need to start a Click and Collect service, I did hear a rumour a wee while back that it was on the cards but there's still nothing. Home delivery costs £3.90.