3 For 2 On Kids' Basics Plus Free Delivery (Minimum Spend £6) @ H&M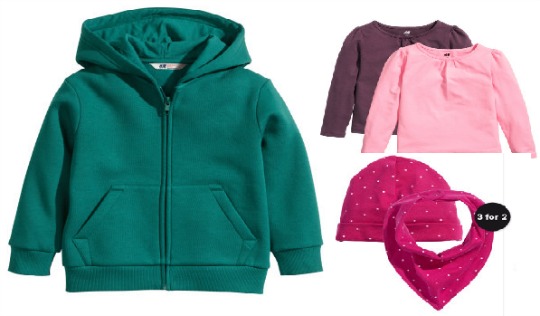 If you have children then you will understand the cost involved with replenishing clothes. Whether it's due to wear and tear or change of season, it hurts our purses. I have found the perfect solution. Head on over to H&M where you will find an array of boys and girls wear all included in their 3 for 2 offer. Your order must amount to £6 or over to be processed. Until the 28th of this month enter discount code 2277 and get FREE DELIVERY. Thanks H&M.
We have all done it, looked in our children's wardrobes and realised that it's all t-shirts and shorts even though it's freezing outside. Get clicking over to H&M where you can buy some very affordable winter essentials for peanuts.
Here's an example of what you can get for boys, a 2pk of long sleeved tops* for £5.99, a marled sweatshirt* for £5.99 and get this hooded sweatshirt* for free! All that for £11.98, use the discount code at the checkout and you will also get FREE DELIVERY.
For the girls, this 2pk of long sleeve tops* are just gorgeous at £5.99, add one of this 2pk of polo necks*, and get these sweatpants* for free! Amazing! Check out these other great items in the H&M 3 for 2, long sleeved dress*, patterned top*, and this leggings*.

Honestly, there's so much choice and sizes span from baby right up to 14 years+. Here's a couple of items that are on the H&M site but aren't in the 3 for 2,  these jersey sets* are a favourite of mine at only £5.99 as is this boys long sleeved top* now only £2.99.
Shift that butt over to our vouchers section, where you will find discount codes like 2277 and so much more.