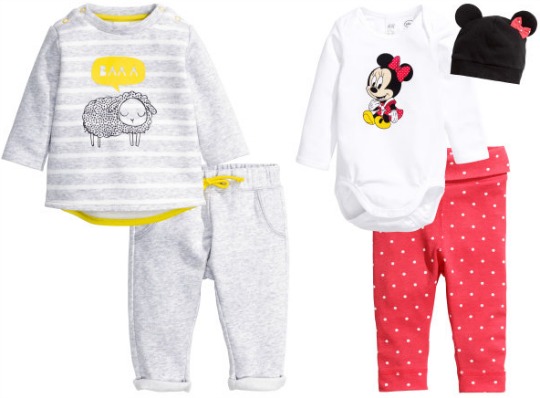 H&M do awesome baby clothes and they are so reasonably priced. Better quality than Primark but priced very similarly. H&M are known for being pretty darn cool and their baby clothes are no exception. Just now you can get an extra 20% off when you enter the order code 2299 at the checkout. It only works on full priced baby as I tried it on sale items and reduced items but it won't work.
Oh where do I start, I love everything on that site! You need to go and have a look at what's on offer. There's so much choice and it's all at great prices even before you take off the 20% discount.
The Minnie Mouse or Mickey Mouse Jersey Set* consists of three pieces: a hat, baby grow and bottoms. It's only £6.39 when you enter the code. With the warmer weather creeping in these Chinos* are a good buy at just £4.79 with code. I'd be tempted to grab a couple of pairs as these come in a variety of colours.
Your order must be a minimum of £6 for the order code to work and delivery is £3.90.
Thanks to jenjmt @ HUKD