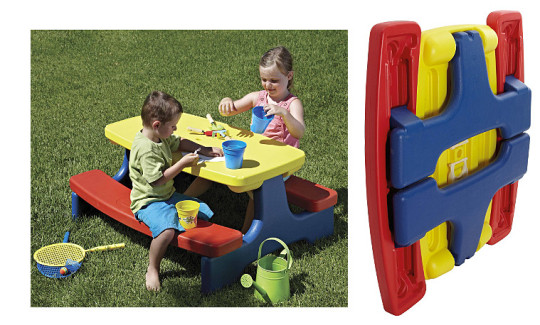 ASDA are selling a fabulous children's table and bench set for £39. It's not on sale as such, but I think it's such a great offer when you compare it to some of the other prices on children's tables and chairs on the market. I bought a similar set to this, in wood, for my kids a while ago and it was one of our better ever investments, but it cost a lot more. I particularly love about this one that it folds flat too - I totally wish ours did that.
The Children's Bench is a larger, heavier duty resin, weatherproof garden bench, ideal for eating from or play. With a simple, folding construction, no tools are required for assembly and everything folds together so no parts can get lost in the shed.
It can be easily dismantled for storage and has a push fit assembly. This desk is suitable for children aged 3 - 6 years and from experience with ours it's perfect for use outdoors and in.
It's only available for home delivery which does cost £2.95 but that seems reasonable for a large item like this.