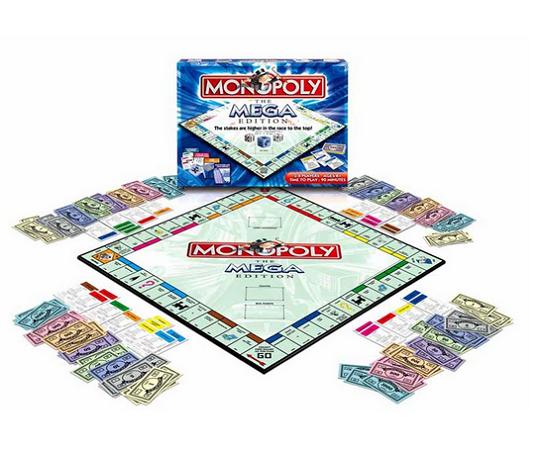 The Mega Monopoly board game is down from £24.99 to £10 and comes with free delivery on Amazon. If you needed to get your old Monopoly kit sorted out or are missing half the bits, then this is a brilliant deal for stocking up your games cupboard.
The game is in stock but will likely take a while to deliver, so don't expect it to arrive in 30 seconds flat. A bit of patience is needed here! This particular version of Monopoly lets you own more squares and handle more cash as well as build train depots and skyscrapers, which is pretty darn cool. It will probably take far longer than the original which is already a really long game! The reviews are mixed…
Monopoly is one of those games you either love or hate and I have to confess, I love it. In this "Mega" version, the board has been expanded with the addition of new streets to procure and play is now made faster by the addition of the new speed-dice. You can also now buy skyscrapers which are even bigger and more powerful than hotels, which is great fun.

The downside? The rules are poorly written and the Chance and Community Chest cards haven't been updated - the overall effect? The game contradicts itself and, if you play by the rules, you enter vicious circles all the time. We eventually made up our own version of the rules and it's working fine but one shouldn't have to do that. I would expect much more quality control from such an established brand.
Thanks to pencil at HUKD!