£5 Frozen Meal Deal For The Family @ Co-Operative Food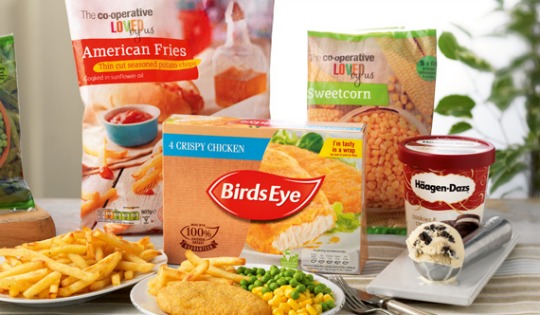 Look at the picture above. How much do you think this would cost you from your local Co-Operative Food store? I would guess around £13, the actual price would be £13.28. The Co-Op have launched the Frozen Meal Deal for the family and it'll only set you back £5. When you consider that some shops sell  Haagen Dazs Ice Cream for a fiver, this deal is GOOD.
What's included in the Co-Op £5 Frozen Meal Deal?
Birds Eye 4 Crispy Chicken
The Co-Operative American Fries 907g
The Co-Operative British Garden Peas 400g
The Co-Operative Sweetcorn 750g
Haagen Dazs Cookies & Cream Ice Cream 500ml
These FIVE items would cost you
Asda*: £2.49 Ice-Cream, Fries (nearest equivalent) £1.97, Frozen Garden Peas (nearest equivalent) £1.50, Frozen Sweetcorn (nearest equivalent) £1.25 and Crispy Chicken £1.86 TOTAL £8.77
Sainsbury's*: £3.50 Ice-Cream, Fries (nearest equivalent) £2, Frozen Garden Peas (nearest equivalent) £1.50,  Frozen Sweetcorn (nearest equivalent) £1.40 and Crispy Chicken £2.75 TOTAL £11.15
Morrisons*: £2 Ice-Cream, Fries (nearest equivalent) £2, Frozen Garden Peas (nearest equivalent) £1.25,  Frozen Sweetcorn (nearest equivalent) £1.25 and Crispy Chicken £1.50 TOTAL £8
Tesco*: £4.50 Ice-Cream, Fries (nearest equivalent) £2, Frozen Garden Peas (nearest equivalent) £1.50,  Frozen Sweetcorn (nearest equivalent) £1.25 and Crispy Chicken £1.62 TOTAL: £10.87
Thank you sazzopardi1971 @ HUKD