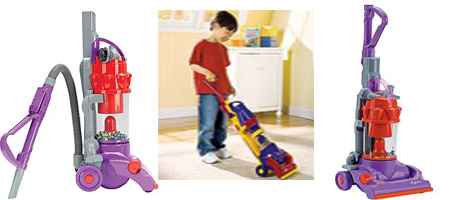 This is just the cutest thing ever, a toy Dyson vacuum cleaner at Argos for only £14.99. They have lopped £5 off the price of this mini Dyson and it is now affordably adorable as opposed to a tad expensive and adorable.
The Dyson vacuum cleaner range is, I believe, one of the most popular brands on the market. I know that they seem to be the most expensive! Anyway, if you happen to own one of the adult size Dyson's then perhaps you'd like to get your tot their very own replica?
The child's Dyson is from the Casden version and features an imitation vortex and a working vacuum action. It has tools on board, a detachable wand and it actually picks up dirt. It actually works! This might be a fabulous toy for teaching your little ones about tidying up after themselves?
I am seriously thinking of getting a copy for myself so my daughter can clean her own room (well she can do a run around with the "pretend" version and I'll do a "real" vacuum later on) and feel proud of her achievements.
Thanks alne19 at HUKD!