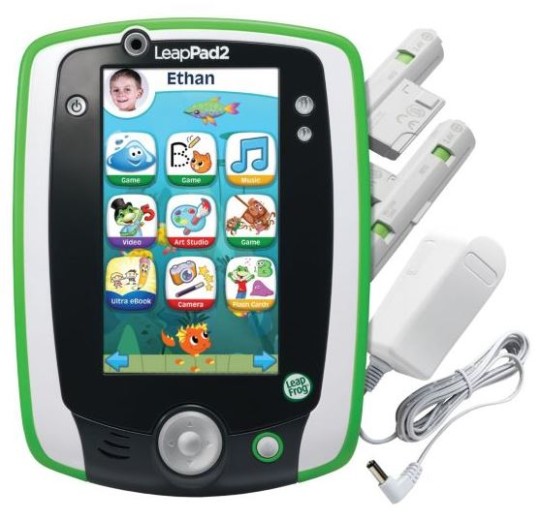 Sainsbury's have 25% off the LeapFrog LeapPad2 Power in Green, which they're selling for £52.49 instead of £69.99. It's currently £63.00 at Debenhams, £72.95 at Asda and £89.99 at Boots, so definitely the cheapest I can find available. It's available for free on Click and Collect, or £2.95 for home delivery.
This is going to sound totally old, but gosh there's a lot of technology available for kids these days. I wonder what the future looks like for them?
The LeapPad2 is a learning tablet that comes with 9 apps, 4GB memory and loads of features, as well as access to LeapFrog's huge library of apps, games, eBooks, videos, music and more.
Children can create, learn and explore with the tablet, and this version has  a quick & easy recharger, meaning that while it does work on batteries, 4 AA's to be exact, you never have to buy batteries for it if you don't want to.
Usefully, the LeapPad2 is compatible with other LeapFrog Explorer cartridges and apps, as well as other great LeapPad2 accessories.
It's a pretty awesome looking bit of kit, with the ability to capture pictures in two ways with two (front &back) cameras and video recorders. Kids can also draw and write on the 5" touch screen with the included stylus, tilt and shake for motion-based play, customise and care for a pet, and create masterpieces in the Art Studio.
Pretty impressive stuff, really. And might stop them from stealing my iPhone all the time too.