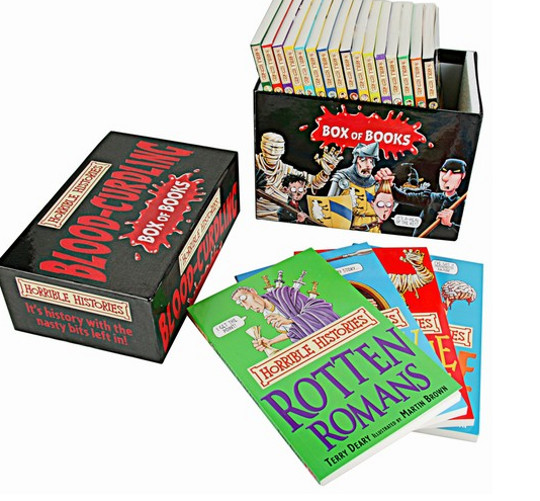 Okay, I don't know if this box set ever cost £99.99, and if anyone actually bought it for that price, but if they did, they're kicking themselves now, because The Works are selling it for £19.99 - £80 off the supposed RRP.
This set of 20 books features some of the best bits from the Terry Deary Horrible Histories series, and is apparently a 'must have' for any child's book shelf. This series includes favourites such as Rotten Romans, Vicious Vikings and Savage Stone Age and encourages children to really engage with historical subjects in a way that they will 'thoroughly enjoy', according to the blurb.
By picking out the fun, gory and revolting parts of the subject,  Horrible Histories set makes learning interesting and exciting and a little less of a chore.
The twenty included titles are:
Savage Stone-Age
Awesome Egyptians
Groovy Greeks
Rotten Romans
Cult-Throat Celts
Smashing Saxons
Vicious Vikings
Stormin Normans
Angry Aztecs
Incredible Incas
Measly Middle Ages
Terrible Tudors
Slimy Stuarts
Gorgeous Georgians
Vile Victorians
Villainous Victorians
Barmy British Empire
Frightful First World War
Woeful Second World War
Blitzed Brits
Thanks to adslis at HUKD