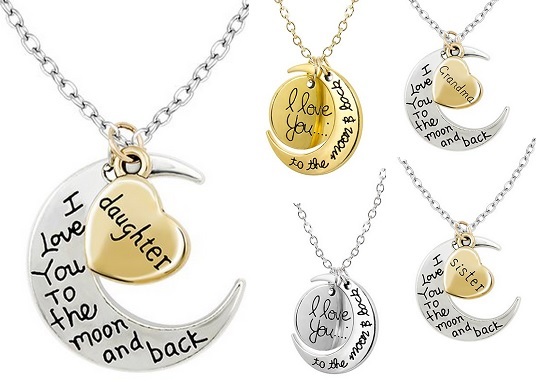 We shared these pendents with you just before Christmas, when they were just over £8, and you loved them, so now in the run up to Mother's Day, at £4.99 delivered, I think they'll fly. Additionally, there are a variety of colour options to choose from at the moment too, all for £4.99 - just amazing and they're beautiful.
We all know the classic love story between a bunny and his mother (or is it father?) - I guess Big Nut Brown Hare could be either? - and this pendant is a throwback to that. You can find that classic story here too*
The pendant is silver-plated, engraved with the message,  'I love you to the moon and back,' and the necklace itself is 70 cm in length. The pendant itself is 3.3 cm and weighs 14 grams. Amazon's colour choices are silver and gold, and there's an additional 'I love you', 'Daughter' or 'Grandma' tag you can choose from too.
It's a lovely little gift, full of meaning and evoking beautiful emotions.