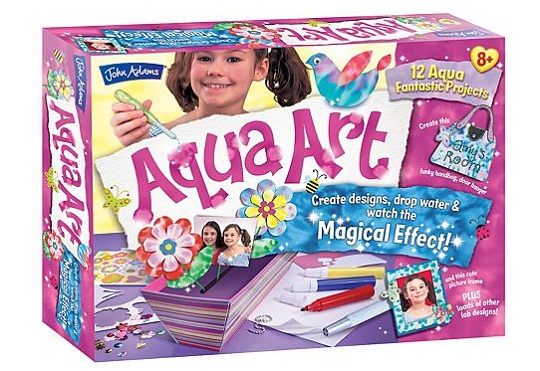 Have hours of fun and creativity with the Aqua Art set from Asda. Asda has reduced this awesome art set from £10.81 to £9.99 so you save £0.82. That's not a huge discount but it's still a really fun art set.
Let you kids create magical effects on paper with felt pens and water to make fantastic works of art. There are lots of fun projects to do such as making pretty 3D cards, a stunning flower box or photo display, cool handbag or a door hanger. They can use their imagination to come up with many more artistic creations, whatever they set their minds to.
The Aqua Art set comes with decorative stickers, glittery glue and shimmering sequins for your children to add extra sparkle to their artwork, and to really show off their creative side. The holidays are nearly over but there are still hours of boredom to fill with activities. Give your kids something creative to do and get them using their imagination to take up the time.