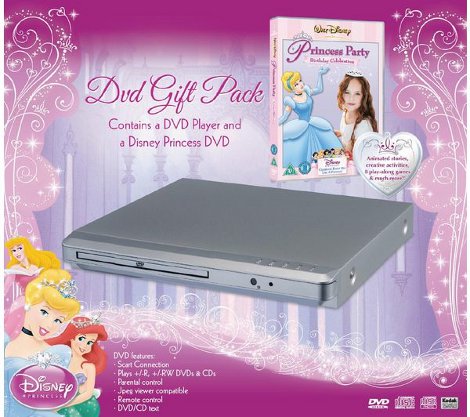 There's £7 off this Disney Princess DVD Gift Pack at PC World, bringing it down to £19.99 if you buy instore, or a web exclusive of £15.99, making your savings £11,  for a DVD player and a DVD with more than just stories on it.
The Disney Princess DVD Gift Pack has a DVD player which can read CDs and DVDs, as well as DVD/CD text. It has a SCART connection, a remote control, and Parental Controls so you can control what your children watch. You can also flip through your favourite photos as this DVD player can also play back JPEG photos on your TV!
The Princess Party Birthday Celebration DVD will help your little girl plan a fairytale party for all her friends. The DVD contains various Disney stories and music, and a Party Planner with check-lists, invitations, thank-you cards, recipes, colouring pages and more.  There are also eight games with the Disney princesses that shouldl keep the children busy for a while.
While some of the commenters on the HUKD thread said this should have been pink, I must admit I'm glad it's not. With an almost 20-month old daughter, I'm a little pink'd out, if I'm honest, and think it's great that this is neutral enough to even be used in the living room without offending the adult colour scheme.
Thanks to lucerysmum @ HUKD