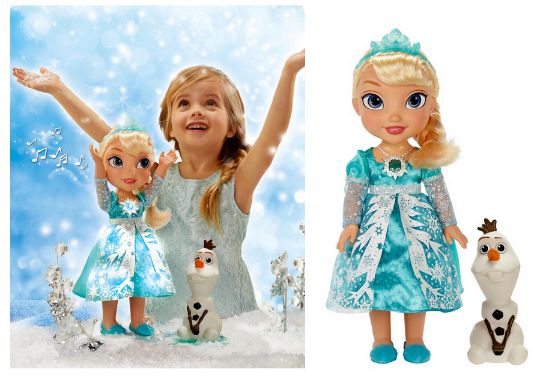 Last Christmas this was THE toy on nearly every child's Christmas list! It sold out the moment stores received more stock. If you have a little Frozen fan at home then this Disney Frozen Snow Glow Elsa  is a fantastic present to put by for Christmas this year. And even better at Smyths right now it is down to the bargain price of £27.99 instead of £34.99. Last year these were retailing for around £40, make sure you don't miss out this year and buy now!
It's not hard to see why this is such a popular doll. Not only does the Snow Glow Elsa have a beautiful sparkly dress, it also lights up. She also sings the now infamous 'Let It Go'  and when you press her snowflake necklace she also talks. This doll has great reviews and is bound to be a big hit at Christmas again.
Watch Elsa's power flurry with Disney Frozen Snow Glow Elsa. With a touch of her magical snowflake necklace hear Elsa talk to her Frozen friends and watch the magic as her dress lights up in a flurry of lights.

Watch Disney Frozen Snow Glow Elsa raise her arm and watch her snowflake necklace light up while it plays the hit song "Let it Go" and her dress magically shines.

Experience the movie again and again with Elsa as she says 15 sounds and phrases from your favourite movie Frozen. Featuring her signature song "Let it Go", Snow Glow Elsa creates an enchanting winter wonderland.
Home delivery is from £2.99 or is FREE if you spend over £29. Or you can choose to Click and Collect for FREE to your local store.