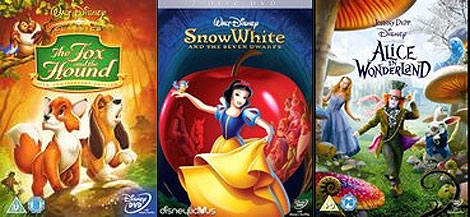 Ohhh be still my beating heart! Sainsburys currently have Classic Disney DVDs on their shelves (both virtual and real!) from £4.99!
My beating heart is probably due to getting carried away and adding lots of Classic Disney DVDs to my shopping basket!
You can't blame me...
Disney DVDs are usually SO overpriced compared to the rest of the DVD world and
They tend to take the classics out of circulation for YEARS and you can't get hold of them for love nor money; ok, you can for money if you want to pay stupid amounts to someone on eBay for a tatty, scratched second hand copy!
Tell me, when have you ever seen Snow White and the Seven Dwarves, in any edition let alone platinum, up for grabs for £5.00?
Other titles include:
But WAIT, there's more!
Bedknobs and Broomstick, Pinocchio, Sword in the Stone, Pete's Dragon, Robin Hood, Mary Poppins the list just goes on and ON!
You can, apparently, pick these Classic Disney DVDs up in store at these prices so if you shop at Sainsbury's you can grab them whilst you're there.
Delivery is free though so you won't be saving yourself postage, just the time it takes waiting for them to be delivered to you (which could be a while due to the stupid snow!).