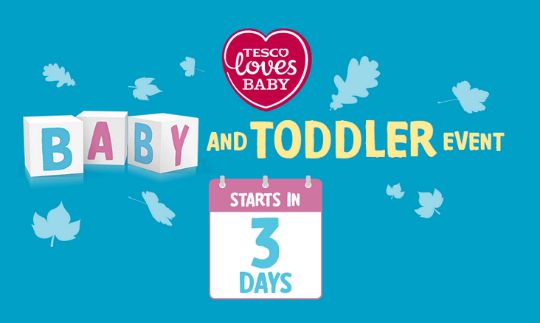 Well, this one has taken me a bit by surprise! Even though the last Tesco Baby and Toddler Event only finished a month ago they are about to have another one! Not that I am complaining if it means lower prices.
The picture above appeared on the Tesco Baby Club twitter feed and Facebook page so it looks like the big day is Wednesday 23rd September.
The Tesco Baby and Toddler Events normally run for just under three weeks, and there are usually good deals on all the main baby essentials like nappies, wipes, and food, as well as travel, nursery, toys and everything else that you need for baby.  It's also very handy that this event has come along just as the Asda one has finished.
At the moment the Tesco Baby and Toddler Event web page* just shows a 'Coming Soon' message, but you can click here* to get more details nearer the start date.
When we get more details on what is included we will let you know. In the meantime, remember that the Aldi Baby Event started on Thursday so check there too!