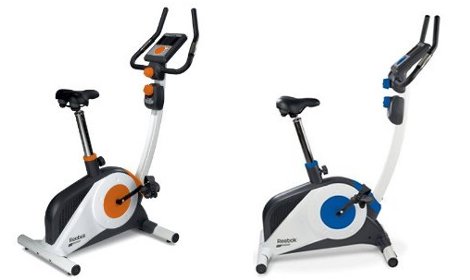 The Reebok i-Bike Exercise Bike is currently available with 24% of at £189.99, with free delivery.
I am the worst when it comes to buying exercise equipment, using it vigorously and intensively for a week or two, catching a cold or pulling a hamstring, and then having a guilt inducing lounge ornament, till I eventually cave and get rid of it.
Fortunately for the fitness industry, not everyone  is like me, and some people can actually stick to their exercise programs, and even train for real outdoor events on exercise bikes and treadmills.
Judging by the reviews, the Reebok i-Bike is a pretty good exercise bike to use. It has 8 manual resistance levels. It has six functions: speed, time, distance, calories, pulse and RPM, and has a fitness test programme including target time, distance and calories.  According to a reviewer this also calculates the recommended settings for your level of fitness.
The seat of the Reebok i-Bike is adjustable and the handlebar has an adjustable incline to allow for different body positions, and there's a hand pulse, which I assume is also in the handles.
Overall it has good ratings, is quieter than some other bikes and is sturdy.
So, if it's for you, happy pedalling!