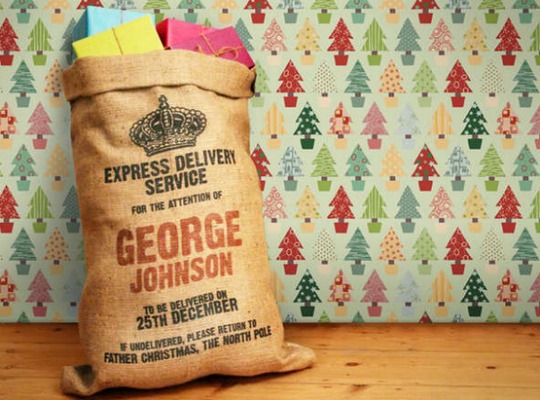 We are going daft for these at PlayPennies HQ. For just £8.99, from Living Social, you can get a Personalised Christmas Delivery Sack. This was previously on Amazon Local, but was £10, here you can save yourself a couple of bucks.
Made from a jute sack material, these would look lovely sitting in any home on Christmas Eve and morning. At 30" high and 20" wide, you'll be sure to fit plenty of presents in this Personalised Christmas Delivery Sack.
You can get a first name and surname on yours, or any fun name you wish. My other half thinks he is funny and insists on personalising everything of mine with Sexypants Wilson on it. I once had to collect a parcel at the sorting office and they all thought it was hilarious.
At the top of the sack is very festive red ribbon, which means you can tie the top. Which is ideal if you have a big present thats awkward to wrap. These have quite a vintage, shabby chic look about them, which is very homely and Christmassy in my eyes.
Grab yours now as with all Living Social deals, you get a limited time to purchase them. You will receive a voucher via email from Living Social upon purchase, which will require you to use it on the Handmade Christmas Co website. The voucher itself is £7 and you will pay £1.99 at time of ordering from the manufacturer.
Thanks to horseflyuk @ HUKD