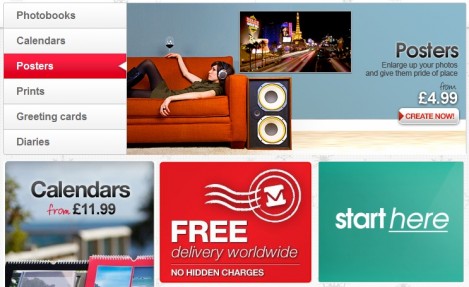 This also covers calendars too, if you're not keen on the Groupon 68% discount highlighted by Luschka in the last post. Use this code to get 50% off MyMemory personalised posters, greeting cards, and diaries as well.
Click here for 50% off MyMemory posters, greeting cards, diaries and calendars
Discount: 50%
Applies to: posters, greeting cards, diaries, and calendars
Promo code: xmas50
Expires: 10th January 2011
To use this code, create your personalised item then go to the Shopping Cart page. Enter it in the Promo Code box and it will be applied automatically to your order.
I tested the code by making a 12 in photo of my son and his friend making snow angels for just £2.49. This is a lovely, joyous photo that I know he loves and I thought it would make a wonderful poster to put up in his room.
I've created photo posters before, although I've not used MyMemory for this purpose before. I love them! I did several for my step daughter's 18th birthday party. My favourite was the one of her aged 6 in her toy nurse's uniform. I'm not sure she was so pleased I put it on the door to the venue though! What I like the most about photo posters is that the paper is nice and thick, and a little bit stiff, so it looks great on the wall without having to be framed.
Thanks to tauran at HUKD!