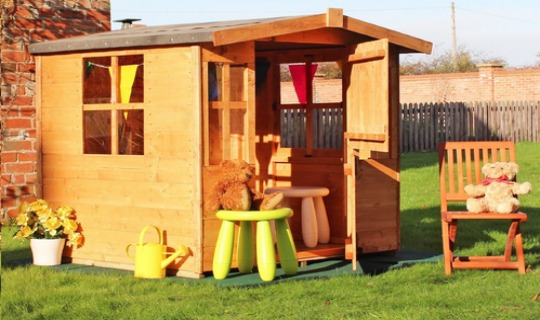 With spring around the corner we have been looking at all kinds of garden equipment, and this wooden playhouse is just about the best value one around right now. The Mad Dash Bunny Wooden Playhouse is a substantial 4ft x 4ft building that is selling for £131.99 plus a £7.95 delivery charge at Tesco Direct.
The playhouse comes flat packed for home assembly, is made from solid wood, and comes with a felt roof to keep out the rain. It definitely looks more like a playhouse than shed, with it's 3 windows and stable door. If you paint it then you could really make it look special.
It's recommended age is from 3 to 7 years, though whether your child will still fit in at age 7 will depend entirely on their height! I think it looks absolutely charming, the internet reviews are good, and it's way cheaper than any playhouse of this size I can find. It's worth noting that there is a cheaper version on the Tesco website, but that has a fabric roof, so will not be as long lasting or water tight.
There's a handy little chart on the website that shows you all the dimensions so you can work out if it will fit in your garden. Go get that tape measure! ;)