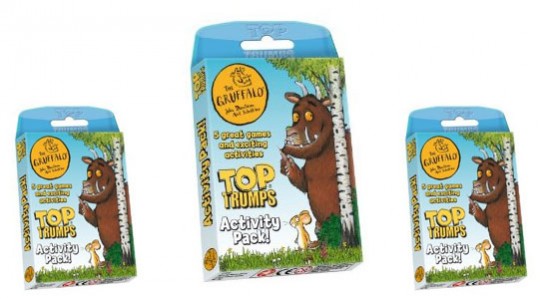 The normal price for this Gruffalo Top Trumps activity pack is £3.99 but you can pick one up from Amazon for £2.80 - I know it's only a little saving but it's a saving all the same and this is Gruffalo Top Trumps we're talking about here!
If you're a fan of Top Trumps and the Gruffalo then you'll like this - it's a mini version of the full Top Trumps fabulousness, with 27 cards featuring a different Gruffalo character (I didn't know there were 27 different Gruffalo characters!).
There are five mini games to play and the Gruffalo Top Trumps activity pack also comes with a pencil and an activity card.
Here's what people who've already bought the Gruffalo Top Trumps activity pack have to say about it...
"I bought this for my 3 year old daughter who absolutely loves the book. She is only just learning her numbers so I wasn't sure if the top trumps would be too hard for her, but she got the idea straight away. I love the fact they are top trumps but you can also use them for spot the difference, matching pairs and other activities."
Along with...
"Compliments the Gruffalo story and characters well. It introduces other characters which can help children think more imaginatively about who else the Gruffalo could meet."
And that's all there is to say about that.
Thanks to lois1987 at HUKD