FREE Shopkins Swap Days @ Selected Toys R Us Stores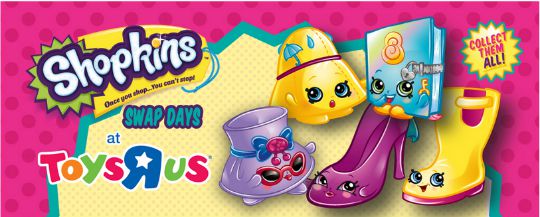 Good news for all you Shopkins fans out there, at selected Toys R Us stores over the next few weeks there are going to be free Shopkins Swap Day Events! This is bound to be a really popular event for Shopkins fans, a perfect way to swap your Shopkins doubles or #Swapkins if you will!
There are 3 store events left where you can swap your unwanted Shopkins with other Shopkins fans. You will also be able to take home a free poster and a variety of goodies, while stocks last. These events will be Season 3 focused but you can swap any Shopkins from all 3 seasons. This is a free event so expect it to be pretty busy.
The stores that are participating in this event are as follows:
26th September – Oldbury
3rd October – Milton Keynes
10th October – Medway
The events start at 11am and end at 4pm. Have fun! #ShopkinsSwapkins