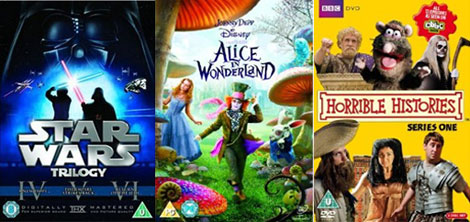 There are some great DVD bargains to be snapped up over at Amazon at the moment.
I love watching movies!
It doesn't matter whether it's at the cinema, on a plane, on my phone (en route to catching the plane) or at home on the TV; movies are great.
Years and years ago - before the age of DVD bargains - I used to get blank video tapes for Christmas so I could record all the movies that we'd seen years before at the cinema, couldn't WAIT to see again and be able to watch over and over and over; ahhh the good old days eh.
Now, however, we see a film at the cinema then three months later it's on the supermarket shelves and three months after that it's on the DVD bargains rack.
Whilst I lament losing the anticipation that came with having to wait for movies to come to TV, I LOVE that I can add to my film library without it taking a millennia to do so.
Amazon have been at the helm of the Bargain DVD ship for a good while now and they have a TON of titles for you to choose from - not just films, but kids TV shows, series box sets, in fact pretty much anything you wish for your viewing pleasure!
To give you a couple of examples - the Original Star Wars Trilogy box set is £17.93 instead of £29.99 (this is great as my youngest has STOLEN mine), the Complete First Series of Shaun the Sheep is only £9.93 instead of £39.99 and so it goes on!
More Bargain DVDs than you can shake a proverbial stick at; enjoy.