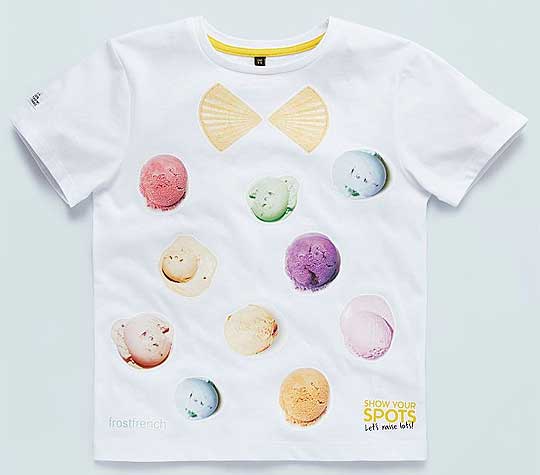 Friday 16 November is Children In Need day - the day when the nation does crazy things, funny things, serious and EPIC things (you have to say/read 'EPIC' in the voice-over guy's voice from the moneysupermarket.com adverts) to raise money for children who are in need, both at home and in Africa.
This year, Children In Need childrens t-shirts have been designed by Frost French - that's the clothing label belonging to British actress Sadie Frost; actor Jude Law's ex wife...?  No?  Well, anyway, it's her and she's rather well known for her fashion in the fashion circle; amazing, something not designed by Stella McArtney - she's obviously taking a break.
The Children In Need t-shirts are white, plain on the back and feature different coloured scoops of ice-cream on the front, with a little slogan in the bottom left-hand corner which reads: Show Your Spots, let's raise lots!
The age range sizes are between 2-3 years right up to 9-10 years (I don't think you'd manage to prise anyone older than 10 years into one of these t-shirts, even if it is for Children In Need) and the price on the Debenhams website is between £3.50 and £4.00.
To drop the prices down to between £3.15 and £3.60, and get free delivery thrown in for good measure, simply add these two codes to the promotions/discount code box in your basket before you check out: GM97 and SHD1 (or SHD5 if the 1 version doesn't work).
Thanks to r&r'smom at HUKD